Doctors


Make StimulEyes Your First Treatment for DES
Regenerative Eye Solution for Chronic Dry Eye Syndrome (DES)
StimulEyes is a product based on the clinical science of Regenerative Medicine that may provide the required broad-spectrum solution approach. Our biological solution focuses on reducing inflammation and providing the growth factors which may increase positive outcomes.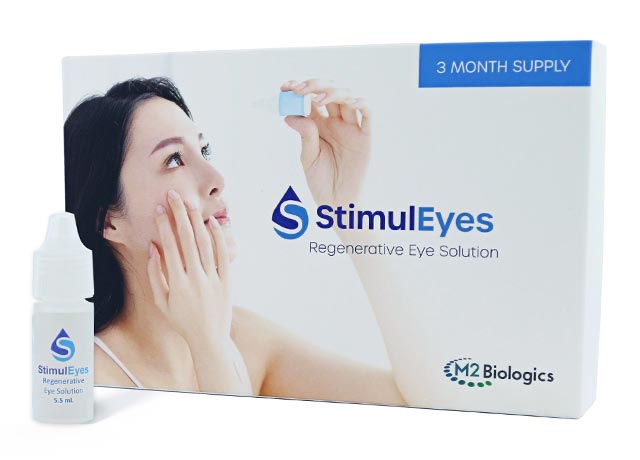 Indications for Use and Prescribing
The primary indication for the use of StimulEyes is for chronic DES.
Duly licensed providers may prescribe StimulEyes for patients and execute that order directly through M2 Biologics. Therefore, the doctor can directly provide the solution and give comprehensive instructions in the doctor's office. StimulEyes requires no stringent environmental storage requirements, can be stored at room temperature, and has a shelf life of up to one year.
Dosing protocols and use are at the discretion of the provider. Suggested use is one drop in each eye twice per day, ideally morning and night. Depending on the severity of the condition, the patient may be instructed to increase the frequency of treatment or additional drops per treatment. A member of the M2 Biologics Clinical Team is available to discuss dosing alternatives with the prescribing provider.
StimulEyes Composition
Rather than stem cells, StimulEyes functions through the introduction of the components found in amniotic fluid. These components may enhance the function of the cells present in the eye.
Components of StimulEyes obtained from amniotic fluid:
Cytokines: A large group of proteins secreted by cells to signal and regulate immunity and inflammation.
Hyaluronic Acid: A viscous glycosaminoglycans found in amniotic fluid, which is distributed widely throughout connective, epithelial, neural tissues. It serves primarily as a lubricant and may provide one of the first signs of DES eye irritation relief.
Growth factors which stimulate cellular growth and differentiation:

EDF – Epidermal Growth Factor
PDGF – Platelet-Derived Growth Factor
TGF Beta 1 – Transforming Growth Factor-Beta 1

Growth factors which stimulate new blood vessel formation (Angiogenesis):

b-FGF – Fibroblast Growth Factor
ANG-2 – Angiopoietin 2
VEGF – Vascular Endothelial Growth Factor

Growth factors which stimulate tissue remodeling:

MMP-9 – Matrix Metallopeptidase 9

Growth factors which decrease tissue remodeling:

TIMP 1,2,3,4 – Tissue Inhibitor of Metalloproteinase 1,2,3,4

Growth factors which have anti-inflammatory activity:

IL-10 – Interleukin 10
IL-1 RA – Interleukin-1 Receptor Antagonist

Growth factors which have antimicrobial activity:
FDA Regulations
StimulEyes is manufactured from human biologics and falls under the regulations of the Federal Drug Administration (FDA) through Section 361 of the Public Health Service Act (PHSA), Part 21 Code of Federal Regulations (CFR) §1271.10(a). These regulations are specific to human cells, tissues, or cellular or tissue-based products (HCT/Ps) or articles containing or consisting of human cells or tissues that are intended for implantation, transplantation, infusion, or transfer into a human recipient.
The procurement of the base matrix and the manufacturing of StimulEyes is also controlled and regulated by other state and federal requirements.
Patients are encouraged to report any negative side effects of prescription drugs to the FDA at www.FDA.gov/medwatch or by calling 1-800-FDA-1088