Doctors


Make StimulEyes Your First Treatment for DED
Regenerative Eye Solution for Chronic Dry Eye Disease (DED)
StimulEyes is a product based on the clinical science of Regenerative Medicine that may provide the required broad-spectrum solution approach. Our biological solution focuses on reducing inflammation and providing the growth factors which may increase positive outcomes.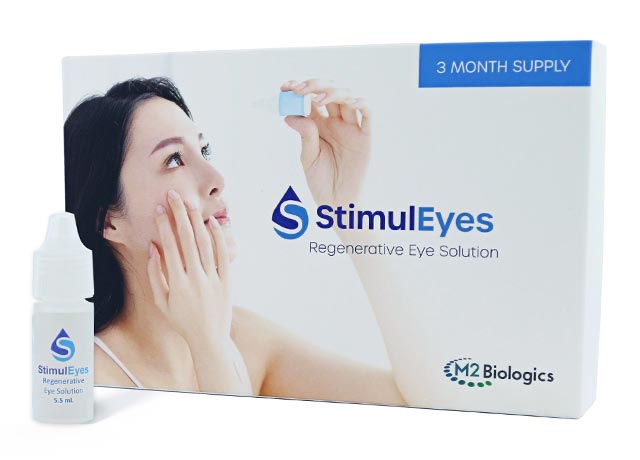 Indications for Use and Prescribing
Indications: Dry Eye Disease, ADDE and/or EDE, blepharitis
Course and dosage:
Mild DED- 1 qtt OU QD
Mild to moderate- 1 qtt OU BID
Moderate to severe or first month loading- 1 qtt OU TID
Full course a minimum of 3 months. With contact lenses, remove and do not replace for 15 minutes after use of drops.
We recommend that if your patient is a contact lens wearer, they should remove contacts when they use StimulEyes. A period of fifteen minutes should elapse before reintroducing the lenses. Also, better results may be seen if no other eye drops are used. It would be at your discretion to choose to discontinue other drops based on your patient's needs. If you determine that your patient should continue with other drops, you may find a two-hour gap between the different drops to be less interfering.
We have not used StimulEyes with glaucoma patients and therefore would recommend your prescribing in those instances only after you consult with the M2Biologics clinical staff. We would be available to discuss a potential course of treatment if you would like.
If your patient has additional diagnoses other than dry eye disease that may be considered contributory to DED, we also are available to discuss. If you are treating any acute bacterial or viral condition of the eye, StimulEyes is not to be used as a replacement for that treatment course.
StimulEyes is not a replacement for antibiotic therapy in treating an active infection. You may find it beneficial for your determination of product efficacy to evaluate your patient's progress at the end of the first three to four weeks of the treatment course. Ideally, a monthly patient visit occurs during the first three months to give you a good view of how well the patient is progressing.
Finally, each state has regulations regarding prescribing and dispensing. Please be aware of your scope of practice based on your credentials.
Should you have any clinical questions or need additional information for the science used for StimulEyes, we have a dedicated email for you to use for your convenience. Also, should your patient experience any adverse reactions, immediately discontinue its use, and contact M2 Biologics.
Contact clinicalquestions@m2biologics.com for additional clinical advice.
The Matrix of StimulEyes
Growth Factors (partial listing)

EDF - Epidermal Growth Factor
PDGF - Platelet Derived Growth Factor
TGF, Beta 1 - Transforming Growth Factor
bFGF - Fibroblast Growth Factor
ANG-2 - Angiopoietin 2
VEGF - Vascular Endothelial Growth Factor
MMP-9 - Matrix Metallopeptidase 9 - Tissue stimulating tissue remodeling
TIMP 1,2,3,4 - Tissue remodeling
IL 10-and IL-1ra - Anti-inflammatory activity
MPO - Myeloperoxidase - Antimicrobial activity

Bioactive Proteins

Cytokines - Function as anti-inflammation and cell signaling mediators

Hyaluronic Acid

Provides soothing and helps maintain moisture

0.9% NaCl Isotonic Saline
FDA Regulations
EVs from culture expanded cells (exosomes) used to treat diseases and conditions in humans are regulated by the FDA as HCT/P drugs under section 351 of the Public Health Service Act (42 U.S.C. 262) and are subject to premarket review and approval requirements. Conversely, EVs from secreted body fluids, e.g., amniotic fluid (Cytosomes™), are not considered HCT/Ps by the FDA (21 CFR 1271.3(d)) and are regulated as a non-HCT/P biologic.
The FDA is clear in their language that their primary mission is to protect patient safety. Amniotic fluid has been studied for decades and its role in tissue growth, tissue repair and immune modulation in animal models and humans is well documented within the scientific literature. These long-term clinical data, together with the minimal manipulation required to isolate pure amniotic fluid, has established AF as a safe and effective tissue for use in research and clinical trials (conditional upon appropriate manufacturing practices by a qualified laboratory).
Patients are encouraged to report any negative side effects of prescription drugs to the FDA at www.FDA.gov/medwatch or by calling 1-800-FDA-1088